When you attend a successful wedding, it can seem like the wedding planning process is a piece of cake. Although planning a wedding isn't difficult, it can be made much more complicated and prone to mishaps if that planning isn't structured or organized. A detailed wedding planning checklist can help to keep track of all of the little things that are needed to make your wedding day special.
By seeing the list of activities that need to be completed before your wedding day, you can start to think about timelines, budgets, location, and the number of guests you want to invite. If you have bridesmaids or groomsmen that will be involved in the planning process, a simple wedding planning checklist can also help to prevent them from getting overwhelmed. For a free printable wedding planning checklist PDF, click here to download our Wedding Checklist Guide.
Want to skip and download your free Wedding Checklist Guide? Click Here
18 Months Before
Start A Mood Board
Plan An Engagement Party
Hire A Wedding Planner
Decide on Theme, Style & Colour Scheme
Order Wedding Insurance
14 Months Before
Select a Ceremony Location
Select a Caterer
Wedding Dress Shopping
Create Your Wedding Website
12 Months Before
Book Your Wedding Night Accommodation
Book Accommodation For Your Guests
11 Months Before
Choose a Photographer & Videographer
Select a Ceremony Musician
Select a Reception Band, DJ or Musician
10 Months Before
Select Wedding Dress
Send out "Save the Date"
Create a Plan "B"
8-9 Months Before
Select Bridesmaids, Flower Girls Dresses
Select a Florist and Choose Flowers
7 Months Before
Select Music Playlist for Ceremony
Select Playlist for Reception
Order Decorations
6 Months Before
Book your Transport/Cars
Book Transport for Guests
Collect addresses/emails for Invites/RSVPS
Marriage Counselling
5 Months Before
Book Honeymoon
Order/Book Mens Suits
Order Mens Shoes
4 Months Before
Order you Cake
Buy Wedding bands
Hair & Makeup Trials
Plan "The Day After" Brunch
3 Months Before
Order/Send your Invitations
Order Guest Favours/Bomboniere
Order Gifts For Your Parents
Write Vows & Reception Speechs
Create a Honeymoon pack
Plan You Big Exit
Make a Transport Plan
2 Months Before
Dress Fitting
Pick up Marriage Licence
Break in Wedding shoes
Practice Vows & Speeches
Start Your Seating Chart
Create a Wedding Day Runsheet
Decide how will guests share photo
1 Months Before
Assemble Gift Bags
Finalise Vendors Payments
Finalise your Seating Chart
Final walk-through of venue
Final Dress Fitting
Provide Final Guest Count to Caterer & Venue
Clean & Pick Up Wedding Bands
Practice Vows & Speeches
Finalise Menu & Dietary Requirements
1 Week Before
Mani & Pedi
Ge a spraytan
Colour Hair and other touchups you prefer
Practice Vows & Speeches Aloud
Dinner Rehersal
The Night Before
Pack an Emergency Bag
Have a glass of Champagne and Get a good sleep
On The Day
IMPORTANT: Remember to Eat!
Relax, have fun and let the magic happen
After The Party
Return The Suits
Return any Hired Items
Finalise and Send Thank You Cards
Change your Name
Order your Photos/Album
Enjoy your HoneyMoon
Review your Vendors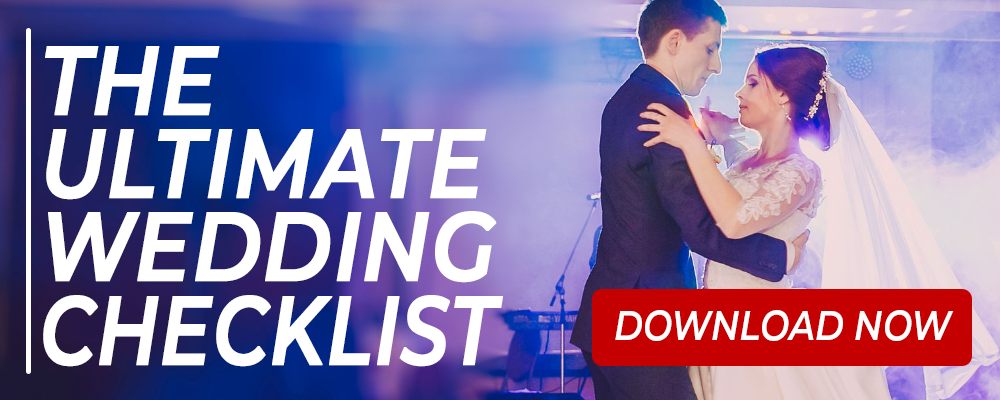 Download your free PDF Ultimate Wedding Checklist for Wedding Planners
The Wedding Checklist Breakdown
Wedding Budget
The best place to start creating your wedding checklist is with the budget. After all how do you know what you can afford if you don't plan your wedding expenses. And whats more use a tools like a wedding budget template. Using a checklist and a budget together will help guide you through tasks and costs. Click here for more on wedding budgets
Start Your Guest List
A wedding wouldn't be any fun without any guests, right? From the must-haves to the not so must-haves (included the girlfriend of you 3rd cousin ) you should start here building your guest list. Which in turn will help with you budget or will be limited by your budget. Click here for how to organize the guest list for your wedding
Selecting a Reception
With 1000's of possibly wedding venues around for you to choose, you need to find whats more valuable to you. Do you want indoors or outdoors, formal or casual, seated or cocktail. Than you also need to consider your theme and colour palates to match. Click here for ideas on selecting your wedding Reception
Booking Your Celebrant
Like all people, marriage celebrants all have their own personalities. It's essential that you make more than 1 contact before booking your celebrant in. Discuss their packages and involvement with your ceremony. They play a critical part of a successful wedding so do your research. Click here for How to Choose the Perfect Wedding Celebrant
Download Your Wedding Planning Checkist Guide
Our wedding checklist guide breaks down the wedding planning process based on when certain activities should occur before the wedding. For example, you may be setting yourself up for disappointment if you wait until the month before your wedding to purchase your dress, but by reviewing our DIY wedding planning checklist, you will see that extending your timeline to a year will allow time for wedding dress shopping, alterations, and your wedding dress fittings.
Seeing all of the aspects of your wedding planning activities laid out in an organized guide will help ensure you cover your bases and that there are no forgotten details. Click here to download our free printable Wedding Checklist Guide.