Planning your wedding is an exciting time and one of the most enjoyable parts of your marriage occasion. Before you start exploring the exciting parts of wedding planning that will make your wedding day special, it's important to decide how much you want to spend and what the overall budget for your wedding will be.
Want a wedding budget template to download free? Click Here
Coming up with a wedding budget breakdown will help you to decide what percentage of your overall budget will go to which items. How you decide to allocate your wedding funds is up to you, but the following steps can help act as a wedding budget planner for you and keep your wedding spending on track.
Decide On Your Overall Wedding Budget
Whether you spend $5000 or $50,000 on your wedding, the first place to start with your budget is to decide on your total overall maximum budget. A budget of $5000 is obviously much different than $50,000 but the basic budget breakdowns are largely the same. When deciding on your wedding budget in Australia, take some time to assess your savings and any financial help you will get from family or friends.
And Plan The Number Of Guests
Many of the expenditures in your wedding budget, such as venue size and food and beverage costs, will be determined by the number of people you decide to invite to your wedding. If your wedding budget is smaller, you may choose to limit your guest lists to only your closest friends and family. If you have a large extended family and you want everyone to attend, your wedding budget will naturally be larger.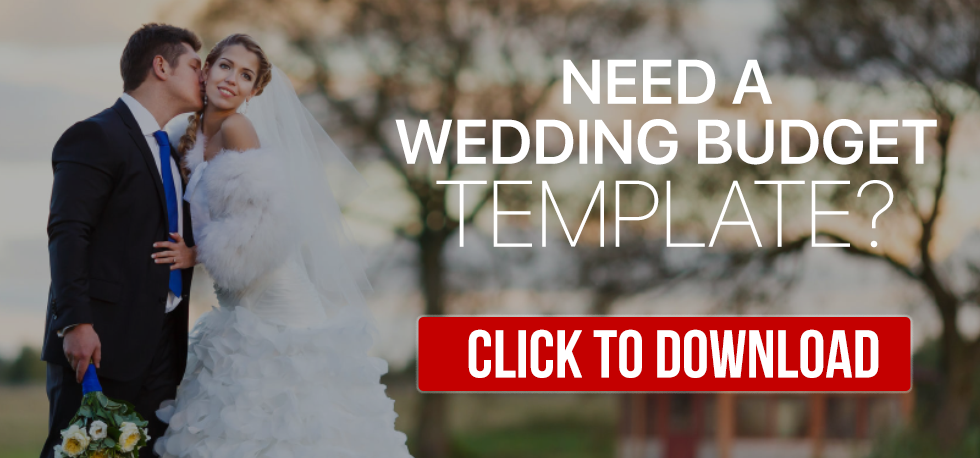 Download your free PDF Wedding Budget Template for Wedding Planners in Australia
Than Start Your Wedding Budget Breakdown
Wedding License and Celebrant: To become legally married in Australia, you must have a Notice of Intended Marriage, a wedding license, and a ceremony officiated by a registered celebrant. Budget estimates for this portion of the wedding range between $200 and $500, depending on the type of wedding service you require.
Venues and Catering: By far the largest piece of your wedding budget breakdown will be your wedding venue and food and beverage catering. This portion of your wedding budget includes the costs for the venues you will use for your wedding ceremony, reception, and any other wedding event activities such as a rehearsal dinner or wedding breakfast. This also includes all of the food and beverages, including wine and spirits.
Flowers and Décor: This portion of your wedding budget includes the wedding party bouquet and boutonnieres, ceremony flowers, and any floral arrangements in your reception space. Your décor items include things like place settings, table decorations, lighting, and wedding favours.
Wedding Cake: This portion of your wedding budget planning includes the cost of your wedding cake and groom's cake.
Photography: This part of your budget includes your wedding photographer, videographer, photo processing and editing fees, and the cost of wedding albums, prints, and frames.
Invitations: This portion of your wedding planning budget includes your wedding invitations, RSVP cards, save-the-date cards, and thank you cards.
Reception Music/DJ: This part of your budget includes music at your ceremony and reception, such as a wedding band or a DJ.
Transportation: This portion of your wedding budget planning includes transportation costs for you and your guests to the ceremony location, reception location, and any special locations for photographs.
Wedding Rings: The cost for wedding rings includes the wedding bands and the engagement ring, as well as any fees for engraving or resizing.
Bride's Attire, Hair and Makeup: This portion of your wedding budget planning includes the bride's wedding dress, shoes, and trousseau (e.g., lingerie, undergarments, stockings, etc.), dresses and shoes for the bridesmaids and flower girls, and professional hair and makeup for the bride and her wedding party.
Groom's Attire: This part of your budget includes the groom's tuxedo or suit and shoes, suits and shoes for the groomsmen and ring bearer, and professional haircuts/shaves for the groom's wedding party.
With some careful planning and understanding of your maximum budget ahead of time, these tips will help you stay on budget while enjoying the magic of your wedding day.